This post may contain affiliate links. If you use my links to buy, I may receive a small commission (at no extra cost to you). As an Amazon Associate, I earn from qualifying purchases at no extra charge to you. Amazon and the Amazon logo are trademarks of Amazon.com, Inc, or its affiliates. For more information please see our
privacy policy
and
disclaimer
.
How to build your first freelance writing website even if you're not tech-savvy.
Building your first freelance writer website can definitely be intimidating. I remember the first time I tried to use WordPress, and I was traumatized. I wanted to create my website the right way by using WordPress from the start, but there are some learning curves there for sure.
Building a WordPress website felt as intimidating as wrestling a giant polar bear on an iceberg in a snowstorm. But creating a website today is much easier than it was decades ago because you had to use coding.
If I had to use coding today, I still wouldn't have a website. To say I'm technically challenged is an understatement. So, if I can build a great WordPress website, then you can too.
Do Freelance Writers Need a Website?
Technically, you can get freelance writing clients without a website, but freelance writers need a website to truly be successful.
The most significant reason you need a website is that it's critical for marketing your freelance writing business. However, building your first website can seem daunting because of all the choices.
After all, there are so many hosting and theme choices. And don't get me started on all the plugins you have to choose from.
So, I'm here to save you with some helpful tips on building a freelance writer website so you can snag those high-paying writing clients.
How Do I Create My Own Website?
Setting up your first website is scary.
If that were the case for me, I still wouldn't have a website. To say I'm technically challenged is an understatement.
You need a website to do any kind of business online, and it's also critical for marketing your freelance writing business. However, building your first website can feel a bit overwhelming. After all, there are so many web hosting and theme choices. How do you know what you need?
HInt-if you set up your website using Bluehost (another great, inexpensive web hosting service for beginners) or SiteGround, they have excellent customer service and are easy to use.
Namehero is another popular web host that I hear recommended a lot. It's almost as cheap as Bluehost with even better service. Many bloggers are switching to Namehero at the time. I'm updating this post in March of 2021.
All three of these web hosting services make it super easy to set things up. But we'll get into that in a little bit.
Here are some tips on how to build a website.
Things You Need Before You Build Your First Website
There are several things that you need to decide on BEFORE you build your first website. So, I'm counting the things in this section as steps because they are important.
First, you need to determine your website's purpose. What are you going to use it for? Is it a business website or a blog?
How do you plan to make money with the site? Are you going just to offer freelance writing services or make money using ads and affiliate marketing?
The design of your website depends on the answers to these questions. Certain platforms are more effective for businesses, while others work better for blogs.
Here are some things you need to do before you build your website.
Related: 32+ Non-Phone Work from Home Jobs That Will Help You Ditch Your 9-5
1. Choose Your Niche
Before you build your first website, you need to choose the best profitable niche. Choosing a niche can be difficult. Trust me, I know! It took me a year to settle on the best profitable niche for me.
That's why I wrote this epic blog post on how to find your niche and turned it into a PDF guide to help you choose your perfect niche. But, if you're really lost with selecting the right niche for your freelance writing business like I was, I created a comprehensive mini-course on the topic.
The Niche Ninja Mini-Course walks you step-by-step through the process of finding a niche and validating it to make sure it's profitable.
You can research online for hours (or days)or ask a million people about your niche or join my course that makes the process easier and helps you pick a niche quickly.
You can't build your website without knowing your niche because that shit needs to be the first thing people see on your home page. They have to see what you do and how you can help them.
2. Choosing a Domain and Name for Your Website
For many people, choosing the right name for their blog trips them up but it doesn't have to be tricky.
I have a few tips for choosing your domain name and naming your business.
1. Choose a Unique Name
Being catchy can work as long as it's memorable. Try to avoid words and identifiers that are likely taken already, like a quill, pen, ink, etc.
If you want to use a word like writing or writer, consider combining it with other descriptive words.
2. Keep It Short and Don't Overcomplicate It
The shorter, the better, especially since your business name is also usually your domain name or they're closely related. With so many different business names and people out there, you can stand out by being simple and straightforward.
heatherritchiefreelancewriting.com is way too long, but ritchiewriting.com or heatherwrites.com are both short and straightforward.
3. Check Social Media Before Finalizing Your Business Name
One of the problems I ran into with Writer's Life for You was that my Twitter name was taken. I should have checked three years ago when I started my blog.
But I didn't know until about 1.5 years ago, and it was taken! Learn from my lesson, make sure the name you want is available on social media. Also, sign up for the main platforms even if you don't plan on using them right away, so they are there when you want to use them.
Here are some tips for choosing a domain name.
4. Go with a .com Name
The best advice I can give you is to stick with a .com name.
Trust is a huge factor in the online world, and people associate .coms as professional, and they are established.
5. Keep Your Domain Short and Easy to Spell
You want people to be able to spell your name or even remember it so they can find you. They are less likely to misspell it when typing it in, so you won't see a loss in traffic like some people with longer domain names.
6. Use Keywords in Your Domain Name
Keywords are critical to drive traffic to your website. With excellent content, a great user experience, and good keywords in your domain, you can rank higher on Google.
7. Research Your Domain Name Ideas
Before you settle on a domain name, see if another business is using the same name.
You can search the trademark registry or Google to see if anyone else is using that name. Like I mentioned earlier, you should also check all the main social media channels to make sure that your name is available.
3. Pick the Features and Pages You Want to Add
When you build your first website, you want to create a list of the different pages or features you want it to have. For example, do you want an online store, blog section, contact form, photo gallery, etc.?
If you're unsure what features you want, check out your competitors' pages or other writer's websites for ideas and inspiration. Don't copy other peoples' sites, though! Many platforms offer free trials so that you can try it out before you commit to buying.
At the very least, you should have an about page, services page, portfolio page, and of course, a home page that advertises exactly what you do and who you help. I also think you need a blog page too but it's not necessary to get started.
Speaking of your about me page, my friend Shweta has this amazing about me page template and training.
Your about me page is actually not all about you, it's about your customers and most people don't know that secret!
Shweta teaches you how to write an about page that draws your ideal people in and makes them think you read their mind. It's very inexpensive so grab your template and training now.
Related: The Best Inexpensive Accounting Software for Freelancers
4. Choose the Your Website Platform
There are several platforms available for creating your website today. There is also website design software that you can use to build your first website. Each has its pros and cons. Let's look at a few.
WordPress
Hands down, WordPress is the best platform out there and the most popular. I'm not just saying that because I use that platform, but almost all of the writers, bloggers, and influencers I know have WordPress sites. First Site Guide says that 42.4 percent of all websites are WordPress.
WordPress offers two versions, WordPress.org and Wordpress.com. You want WordPress.org. It's free to use. You simply need a domain name and web hosting. For this reason, it's also known as self-hosted WordPress.
The reason why you want the self-hosted platform is that you have total control over your website. It can't be turned off by someone else as long as your business is not doing something illegal. (Don't do anything illegal regardless of your website platform.)
There are also amazing paid, free, and custom plugins that you can add to help you integrate your website with other systems you need for your business. You can make money with WordPress.org and use Google Analytics for custom tracking and analysis of your traffic.
Create a membership site or online store to increase your income. Just understand that you do the updates and backup when you own your website. It's effortless to do both on this platform.
One of the co-founders of WordPress created WordPress.com as a hosting service. It has five hosting plans. This platform is great for hobby bloggers or people starting a family blog. However, you lack control over your site.
WordPress.com places ads on all of the free websites, and you don't make any money from them. You also can't sell ads on your site. The platform doesn't allow you to add plugins, and you can't upload custom themes.
They can delete your website anytime they want to if they think you've violated their service terms. You can't have membership sites, and there are no eCommerce options.
Back to WordPress.org. I mentioned plugins earlier; well, WordPress.org has 50,000 free plugins that increase your site's functionality and add more features. I'm going to repeat it, get WordPress.org. See, I'm saying that, and I'm not even an affiliate!
Squarespace
So, if you don't want WordPress, Squarespace is another very popular all-in-one platform with free unlimited hosting. That's a plus! Many web platforms have limits on bandwidth and storage, but Squarespace doesn't. They have 24/7 support, and they offer advanced security.
Squarespace seems to be popular with some writers, and I haven't heard any nightmare stories about them, so that's a plus.
This platform is robust and secure. There are many website designs to get you started, and they are flexible for any content. You can even add multiple templates at the same time to one website. Squarespace makes it easy to design your site with drag and drop features.
There are several cons to Squarespace, and one is limited integration with third-party services. This problem can hurt your business's growth because most of us use multiple services such as email marketing and sales funnel builders to grow our business and increase our income.
Wix
Wix is another common website platform that I hear mentioned by others. It's easy to use and has some great features to help you build an awesome website. It's a fully hosted platform, so you don't need to pay for hosting, which is nice.
There are hundreds of design templates to choose from, and each one is fully editable. Wix has a simple and intuitive drag and drop builder making it a breeze to build your first website. You don't need to learn code to develop your site.
There is a free plan available, but it doesn't come with a domain name and has limited storage and bandwidth. You get a free SSL certificate with all websites, but you'll have to turn it on. Their pricing is reasonable.
Wix comes with hundreds of apps that you can add that provide additional features similar to WordPress plugins. These apps enable you to add social media buttons, email marketing, contact forms, and more.
WordPress offers way more than Wix, even though they are continuously growing their library of apps.
Wix offers several plans, but their Free and Connect Domain plans show branded ads on your site. One of the most significant drawbacks is that if you ever want to move your website to another platform, it's a complicated process.
Website Design Software
There's also software specifically for designing your website, but it can be complicated and require you to know code. I don't know about you, but when I hear the words "write code," I just give up.
Dreamweaver is an advanced web design software to build, manage, and code dynamic websites. A simplified coding engine makes it easier to design your website.
The software lets you preview it live. It says it's an excellent tool for beginners and advanced users, but you must have basic coding skills. To me, that means it's not the right choice for beginners.
There is also software like Bootstrap, a popular framework for creating websites and web designs. It's geared towards technical users and is very powerful.
There are pre-built, fully editable templates that work well with this framework. People use it to create web designs with CSS, JS, and HTML.
Showit is another page builder for websites and helps you build the website you've always dreamed of, and it's easy to learn.
I have a friend who broke her own WordPress website and went to Showit. There she still has complete creative control without the hassle of maintenance because they take care of that part. They take care of hosting and have easy-to-use templates so you can create a beautiful website.
Elementor is one of the most popular, if not THE most popular, website builder, and it's the one I personally use. I'm pretty much tech-challenged, and it was easy to use. If I can use it, anyone can!
You can use Elementor on any WordPress site (unless you have Divi by Elegant Themes. It's a page builder itself). That includes the free WordPress.com websites.
Elementor allows you to customize your website easily, and I found it very intuitive. It makes creating each different web page easy and quick.
5. Draft Your Website on Paper First
Drafting your whole site on paper is an excellent idea to help the process along, especially if you plan on hiring someone to build your website. Most of us can't afford to hire someone for our first website, but this can still help.
Like I mentioned earlier, you can write down the features and pages you want on a piece of paper. Take it a step further and map your site out.
How are people going to navigate your website and find what they need? What buttons or categories do you want your site to have? Think of how you'll share your information and how you'll promote your projects.
When I built my first website, I was so green that I couldn't even visualize how to create a website, so even drafting it on paper was overwhelming. I needed to see the builder and all of the options. See, I told you guys I was technologically challenged, and I wasn't over exaggerating!
However, building your first website is a strategic process. Mapping out your website's layout and purpose on paper brings clarity to the project.
It's easier to make changes on paper than on your actual website. You may see things that you don't like or want to change once you get a draft on paper. Now you're one step closer to making your dream a reality! Yayyyyyyyyy!
6. Hosting
Now you need hosting unless you picked a platform that includes it. There are several things to look for with hosting. How many websites, domains, and subdomains you can have as well as storage and bandwidth.
Do they come with an SSL certificate? Other features and bonuses include spam experts, dedicated IP, Office 365, type of performance, and more.
The good thing is that domains and hosting go hand in hand. Most web hosting companies give you a free domain name with your hosting package.
There are several providers to choose from. The top two I see mentioned over and over again are SiteGround and Bluehost. I personally switched from GoDaddy to Bluehost because of the pricing and the value.
But really, it's a toss-up between SiteGround and Bluehost because most of the bloggers I know recommend one or the other.
And as I mentioned earlier, Namehero is becoming the most popular web hosting service because of its customer service, fast speed, and more. It's usually the number one service I see recommended now in Facebook groups.
Bluehost
Of course, I am an affiliate of Bluehost, and I was thoroughly happy with it as a hosting service. I only recommend services that I genuinely think are good products and would recommend to my mother. Which I actually have! However, I digress.
Bluehost offered a free SSL certificate which GoDaddy was going to make me pay big money for. Also, the price for hosting blew GoDaddy out of the water. We'll talk more about GoDaddy in a little bit.
Bluehost's least expensive hosting plan includes some great features such as the free SSL certificate, 25 subdomains, one website, 50 GB of SSD storage, and their standard performance.
The other packages are very affordable and offer things such as unlimited SSD storage, high performance, unlimited websites and subdomains, and more.
All of Bluehost's packages come with one free domain name. They also have 24/7 customer support and are quite friendly and knowledgeable.
SiteGround
SiteGround is another fantastic hosting service, and it's what I currently use. They offer WordPress hosting, and then they have another category for hosting. The main difference between the two hosting services is the platform. There is more freedom with WordPress, as we discussed earlier.
I'm going to focus on WordPress hosting since it's the most popular — SiteGround places more limitations on their features. Their lowest package provides you with the essential WordPress features.
You don't have access to the Premium features. Like most things, you get what you pay for because SiteGround limits you to 10 GB of web space and 10,000 monthly visits. Even the highest packages place limitations on you, such as 30 GB of web space and 100,000 monthly visits.
SiteGround provides excellent service and has a superb reputation. In my opinion, it's a step up from Bluehost. Just being honest! You do get a free domain for one website, however. Still, many new online business owners and bloggers I know use Bluehost.
GoDaddy
I'm going to mention GoDaddy because I used them, and many people don't like them. I've heard that they have lousy customer service. Let me tell you, I had to contact them many times, and they were always great. They have 24/7 customer service and technical support.
Their economy package starts at $5.99, so their service is slightly more expensive than the other ones mentioned. The service comes with one free domain name and free business email for a year. Neither Bluehost nor SiteGround offers that.
You get one website, 100 GB of storage, and unmetered bandwidth. The most significant difference is the Ultimate plan, which gives you a free SSL certificate for a year, free premium DNS, and unlimited databases.
I switched because I didn't purchase an SSL certificate early on because I didn't understand that I needed one. With GoDaddy, if you don't buy it initially, it's pretty expensive to add. It's important! Read this article that explains the importance of an SSL certificate.
I left Bluehost for SiteGround because my IT person would not speed optimization for websites on Bluehost. So, now I'm with SiteGround, but Namehero is the one everyone is recommending.
Namehero
With Namehero, you get fast website speed, it's reliable and scales well, and it's easy to use. You can get the Starter Cloud package for only $3.13.
It's for one website and comes with free website migrations, free LiteSpeed, and free and automatic SSL. The free migrations are nice and very helpful if you're coming from another service provider. You only get 1 GB of RAM, and all packages come with unlimited SSD storage.
The next package, Plus Cloud, allows for seven websites and more RAMS, and the packages go up from there. The highest price one is the Business Cloud, and it's only $11.98 a month.
To be honest, they're looking pretty tempting to me, and their reliability is critical.
There are more hosting services that you can research. Bluehost, SiteGround, Namehero, and GoDaddy are just four popular services that you'll hear a lot about. Make sure you compare the services to your requirements and try to think about what you'll need in the future as well.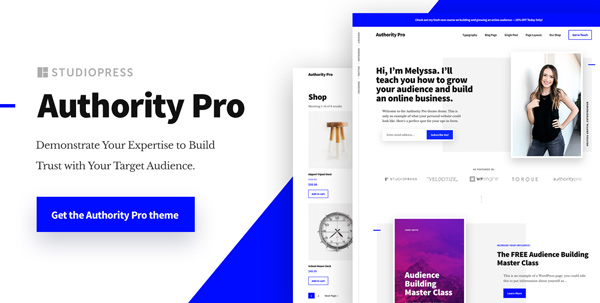 7. Theme
The next critical choice to make is your WordPress theme. I'm just going to briefly touch base on this topic as I may write an in-depth article on comparing specific themes if you think that would be helpful. And I'm focusing on WordPress themes.
If you're just beginning, there are plenty of great free themes to choose from. They won't be as customizable as premium themes, but there are thousands of free ones available.
You'll hear the Genesis framework and Divi theme thrown around quite a bit. Premium themes that require the Genesis framework are a little more expensive but incredibly powerful.
My freelance writing website utilizes the Genesis framework with the Authority Pro theme, and it's fantastic. It gives your site a professional clean look and has impressive features.
The Divi theme by Elegant Themes is another great premium option. Its drag and drop builder is intuitive, responsive, and easy to use. It has so many great features and is well worth the price.
The theme for Writer's Life for You was Divi, and while there is a bit of a learning curve, it's totally worth it. Divi lets you really customize your website and has a drag and drop builder, or you can use the Gutenberg editor.
Now my website uses Astra, a lightning-fast theme that's great if you're focusing on SEO. Astra offers many ways to customize your website. I could show you multiple websites done on Astra, and you would be amazed at the differences. There is a pro version and a free one.
Mistakes to Avoid with Your Freelance Writing Website
We are all guilty of making mistakes with our first writing websites. Here are some of the biggest mistakes you want to avoid when creating your freelance writing website.
No Negative Space
This is a time when less is more. You need the right amount of space to balance out the elements on your page. You also don't want too much clutter, which goes along with making sure you have enough negative space.
Things should be balanced and symmetrical, not a mismatched mess.
No CTAs (Calls-to-Action)
I bet you can go through my blog posts and pages and still find some without CTAs (yes, I'm not perfect either). People need you to guide them through the journey. You need to tell them the next action to take.
I tend to agree with Elna Cain that your CTA needs to be above the fold in most cases. And many other expert bloggers and writers will tell you the same. However, other people think that your copywriting is more important than where you put your CTA. Which leads me to……
Sucky CTAs
Make sure that your CTA is the most critical action you want your readers or clients to take. And don't use more than one. Requiring more than one CTA increases the likelihood that you will overwhelm people, and they will just click away.
Compelling Copy
Copywriter turned email marketing guru Kate Doster is an example of someone who knows how to write good copy. In her own words (though not about herself), she says, "offers that make you want to lick the screen." She could start selling charcoal, and I would run to buy it.
No Niche
You already know how I feel about freelance writing niches – you need one! I love the quote from Meredith Hill – "When you speak to everyone; you speak to no one." If you want to make more money, you need to position yourself as an expert, and to do this; you need to choose a profitable niche.
In the End
In the end, there are many decisions to make when building your first freelance writing website. The possibilities are nearly endless, which can be overwhelming.
Follow this guide and plan your site out on paper first. Then choose if you want to hire a web developer or designer or do it yourself. I've done all my websites myself, and if I can do it, anyone can!
Next, choose your platform. I highly suggest WordPress because of the future systems you may need to integrate later in your business, such as email marketing, sales pages, and more. Then decide on hosting and pick a theme. BOOM! You're ready to build your first website.
Have you created your freelance writing website yet? What do you need help with? Let me know in the comments below.
Related Posts to Freelance Writing Website
10 Traits You Need to Work from Home Successfully
13 Simple Content Writing Tips for Beginners: How to Look Like a Pro When Your Not
How to Market Yourself as a Freelance Writer the Easy Way
How to Organize Your Home Office to Get More Work Done
The Best Laptops for Writers This Year
KeySearch Review: The Most Affordable Keyword Research Tool
The Ultimate Guide to Freelance Writing for Beginners
The best tips on how to build your freelance writing website the easy way.