This post may contain affiliate links. If you use my links to buy, I may receive a small commission (at no extra cost to you). As an Amazon Associate, I earn from qualifying purchases at no extra charge to you. Amazon and the Amazon logo are trademarks of Amazon.com, Inc, or its affiliates. For more information please see our
privacy policy
and
disclaimer
.
The best non-phone work from home jobs for people who hate phone work.
When you first start looking for work from home jobs you can do, you'll find many of them involve talking to angry people on the phone. Those of kinds of jobs you dread.
Plus, you may already work in a traditional job that involves customer service, and there is NO WAY you're going to find a work-at-home job that puts you back in customer service hell!
The good news is that there are plenty of non-phone work from home jobs that ensure you don't get up every morning dreading work, even if your commute is only from the bed to the coffee pot.
That's why I created this comprehensive list of the best remote jobs that don't require talking on the phone.
But first, what if you don't have any experience with remote work? Are there still other work-from-home jobs you can do with no experience?
What Jobs Can I Do from Home with No Experience
Whether you just want something to do as a side hustle for extra money or you're looking to work from home for good, there are plenty of jobs for every level of remote work experience. Here's a quick list of the types of non-phone jobs you can do with no experience:
Proofreading and editing
Data entry
Tutoring
Essay and test scoring
Search engine evaluation
Transcription
Research
Translation
Community moderation
Virtual assistant
Freelance writing
Website testing
Chat agents
Freelance writing
Internet researcher
Some of these jobs you may need experience with in your traditional jobs like transcription, for instance. If you were an administrative assistant who can type fast, you might make a good transcriptionist.
Benefits of Work from Home Jobs that Don't Require a Phone
First, your job may be less stressful if you don't have to talk on the phone all day. And you probably won't need a quiet place to work in, which can be a huge benefit if you're working with the kids at home.
Most employers that provide customer service-based jobs require that you work in a space with no background noise. This isn't necessary with jobs that don't require you to talk on the phone.
Jobs that Don't Require Talking on the Phone
Here is a list of work from home jobs as well as specific examples.
Freelance Writing – Get Paid to Write Online
Freelance writing happens to be my favorite work-from-home job; it doesn't require experience. Jobs where you get paid to write online, are the best non-phone freelancing jobs.
As you probably know, it wasn't my first work-at-home job, but I wish it had been! It would have saved me a lot of time.
Ghostwriting blog articles and other content can be a great job for new freelancers looking for virtual work that doesn't require talking on the phone because many companies need ghostwriters. That's because almost EVERY business needs content to attract and retain leads.
Companies hire writers to ghostwrite blog articles for them all of the time, making it the perfect job for bloggers. You simply match the company's writing style when you ghostwrite for clients.
Article writing for businesses is also one of the easiest types of content to create as a beginner.
But don't think that means that you can't make a lot of money writing blog articles. When you choose a writing or blogging niche, you can set yourself up as an expert and command higher rates. I've been paid over $300 for a short blog post, and I know others who have made much more.
You can find freelance writing jobs on the following websites:
All Freelance Writing Job Board
A word of caution about places like Upwork and Fiverr: these are considered content mills or bid sites, and they are a fast way to burn out. Why? Because of the number of jobs you need to work to make a decent salary. Check out my blog post on why you should avoid content mills to learn more.
Alternatively, you'll see me mention FlexJobs and Indeed a couple of times because they are some great places to find work-at-home jobs of all types.
Copywriting
Copywriting is a more challenging skill, but you can certainly learn it. Some people are just naturally better at it than others. Copywriters create the copy that goes on sales pages, opt-ins, emails, and more.
Many people hiring copywriters want to see that you have a proven track record and see a portfolio of other clients you've worked for and how you helped them. So, building your portfolio is critical as a copywriter.
Some of the best copywriting jobs come from HARO (Help a Reporter Out), referrals, networking in your niche, and job boards. Some great job boards to look at include:
American Writers and Artists Institute Job Board
Magazine Writing
Many freelance writers like to write for online and print magazines. When I wrote for the cannabis industry, I wrote many articles for four online magazines – Dr. Raphael Mechoulam's Entourage Effect and Solvent Extraction Only Gets Better with Time.
The best part is getting a byline which makes it much easier to get writing samples, unlike ghostwriting, where you're writing in the client's voice. You can get paid VERY well to write for magazines, but you need to get good at pitching to them.
Here are few examples of magazines that are always looking for new submissions:
New Your Magazine – Submit to the editor directly using the email address on this page.
Internet Researcher
Yes, there really is such a job as an internet researcher. If you're great at finding even the most obscure information, this may be the perfect job for you. Usually, as an internet researcher, you will complete research for businesses or individuals.
I actually worked at Wonder as a writer, so I took the information that internet researchers found for clients and compiled it into a report. It was hard just because of Wonder's guidelines.
Often the topics involved market research, so the researchers had to make sure that the information was easy for the writer to use. And writers had strict guidelines to follow. But if you like business topics and market research, you may love this job!
Resume Writing
I hate updating my resume, and apparently, a lot of other people do too, because resume writing is a popular work-from-home job. If you've ever been a career counselor or something similar, this may be the perfect job for you (as long as you like writing resumes).
Here are some places to look for resume writing positions:
Proofreading and Editing
Proofreading and editing jobs are very popular, and when I first started looking for online work I could do from home, I followed Caitlin Pile from Proofread Anywhere. She's amazing and has a horrible story about how she was fired from her previous 9-5 job. I'll let her tell you that one.
What makes editing and proofreading the perfect remote jobs is you really can proofread for a living no matter where you are, so it's a great digital nomad job for the person who wants to travel. If you can spell well and understand grammar rules, you may love proofreading for money.
It's the same thing with editing, and these two jobs often go hand in hand.
Some places may require a college or graduate degree.
Data Entry
Data entry jobs are some of the first ones people think of when looking for non-phone work-from-home jobs. While most don't require many skills, they still may make a minimum typing speed necessary.
Data entry involves transferring data from one source to another source. The one drawback is that most entry-level jobs may not provide enough income to replace your job. But if you're looking for a side hustle or just looking to contribute to the household income as a stay-at-home mom, they could work.
Places to find data entry jobs include:
Transcription
Transcription is another favorite virtual job for people who want to learn how to make money typing. But it requires specific equipment, excellent hearing skills, and accurate and fast typing. You should also take training if you're a beginner.
So, transcription is often not the best freelance or work-at-home job for newbies. I simply tried some transcription practice activities and soon learned I DID NOT have the skills to do this job. Even if I could almost type as fast as they required, I certainly wasn't accurate at that speed, but you may be!
Transcriptionists get paid per audio minute so it's a little different than other work from home jobs. Usually, you work for a transcription company.
You can find transcription jobs at:
Daily Transcription – Takes beginner transcriptionists.
eScribers – Also, takes novice transcribers
You'll need a foot pedal, headset, and transcription software. Some companies require this equipment, and others do not, but these tools are the best way to do transcription.
Online Tutoring
Online tutoring is another great way to make money online. If you excel at a particular topic, some people need your help to pass these subjects in college or even high school.
With Skype and other similar ways to connect online, you can tutor a student who really needs you right from the comforts of home. Here are some popular places to find tutoring jobs:
Bookkeeping
If you're an accountant, treasurer, or administrative assistant that deals with finances, you can certainly work from home as a bookkeeper or even start your own bookkeeping business.
Bookkeeping is another in-demand remote job that you can do as a novice with no experience. The know, like, and trust factor is significant here because people are trusting you with their business finances.
There are two professional organizations that offer certifications to people who may have accounting or similar experience from their traditional jobs. National Association of Certified Public Bookkeepers (AIPB) and National Association of Certified Public Bookkeepers (NACPB).
Getting certified helps potential clients trust you, and this is the type of work-at-home job that you must prove you're reliable and trustworthy.
You can find accounting jobs at a few places like:
Online ESL Teacher
You can make money teaching English to kids in other countries! I honestly looked at this when I wanted to start working from home, but the times were not good. You have to teach during their daylight hours which is super early in the morning, and I'm a night owl.
You must have a stable internet connection and be fluent in English. Some companies may require you to have had experience teaching. Teaching the English language is a very rewarding job if you meet the qualifications.
You need a web camera and a good headset for quality video and audio.
Cambly – Right now, they need Spanish and English tutors. It's informal, so you'll mostly chat socially. No degree required.
VIPKid – Teach Chinese kids how to speak English one hours a day for $420 – $650 a month.
SayABC – Earn up to $17 every 40 minutes you teach. You must be a native English speaker and have at least a Bachelor's degree.
QKids – You can apply for this job as long as you are enrolled in college or have a degree. You can earn up to $20 an hour.
Translation Services
If you're bilingual or multi-lingual, you will make a great translator. You can interpret one language to another by audio or spoken or written word. Interpreters can translate meetings, documents, calls, and other correspondence. Here are some places that hire translators:
Virtual Assistant
Virutal Assistants are very popular work-from-home jobs because many online businesses need them. Generally, they perform administrative tasks so their clients can focus on the money-making aspects of their business.
You can be a general virtual assistant or specialize in SEO, Social Media, Bookkeeping, or even writing content. Many VA's take care of blog management and calendar management as well.
Your services depend on your previous experience, education, and skills. There are customer service VAs who take phone calls from customers, but you get to decide on your own services. Many VAs rarely deal with customers on the phone. Here are some places to find VA jobs.
Boldly (Formally Worldwide 101)
Startups.co (Formally Zirtual) -Must have at least an Associates degree
Test Scoring
Test Scoring is an excellent non-phone work position for people with Bachelor's degrees. I was actually offered a position scoring tests, but I had just taken on another client and didn't need to do it. (Yes, I think I tried just about every job you can do from home.)
The drawback is that these jobs are seasonal and only part-time Check here to see when they open:
Freelancing
Freelancing is a great way to make money working from home and when you choose an online business to start, you pick one that does require much talking on the phone. Now, I don't consider discovery calls with clients as a "phone job" because no matter what job you have, you will occasionally talk to clients on the phone or by video.
Most of my clients I rarely talk on the phone to, and I'm honestly happy to be working one of the best digital nomad jobs after dealing with the bad side of humanity for so long.
Many of the jobs I've listed so far are actual positions with an employer, making an employee subject to their rules. As a freelancer, you're governed by your own rules, and they have no control over how you work or when you work. Some of the most popular freelancing jobs are freelance writing and social media management.
Let's look at some examples of freelancing jobs.
Examples of Freelancing Jobs
Social Media Manager
Freelance writer
Copywriter
Editor
Graphic designer
Voiceover acting
Photographer
Branding consultant
Marketing expert
Illustrators
Lawyer
Programmer
Yoga instructor
Wellness coach
Designer
Accountant
Videographer
SEO expert
Virtual Assistant
And many more.
Blogger
Blogging is another great non-phone work-at-home job. It's a lot of work, but if you like writing, networking on social media, and marketing, you may love being a blogger. The most successful bloggers set smart blogging goals to know where they are going and what they need to do.
The key is creating helpful content that solves people's problems and finding your tribe of raving fans. You can make money several ways, such as writing sponsored posts, affiliate marketing, offering services (like I do), and creating products.
If you don't want to start your own blog, you can find blogging work on job boards like ProBlogger and BloggingPro. Twitter is another excellent place to find blogging jobs.
Video Editing
A video editor edits videos by rearranging or manipulating video shots. If you have editing experience, then working from home as a video editor is a great freelancing job.
I know a lot of bloggers right now who could use a video editor. Since video content is hot and not likely going anywhere anytime soon, video editing is an in-demand job. Not just anyone can do video editing but you can take courses and learn how to.
You can be a freelance video editor or even work remotely for a company or small business. Here are some websites to find video editing jobs.
Graphic Design
Graphic design is a fun work-from-home job if you have the skills or training. They create visual design concepts by hand or with a computer to inform or inspire.
For instance, they may design the layout for and create magazines, brochures, logos, templates, content for social media, etc. You can also be a graphic web designer where you develop websites for businesses. Part of their job is to make sure your branding is clear across all your marketing creatives.
If you have training or experience as a graphic designer then you can work from home as one. Here are some places to find graphic designer jobs. Here is another helpful article with the best freelance marketplaces for designers.
Online Community Moderating
Community moderating continues to become more popular because so many businesses and solopreneurs need help with it. You could get a job monitoring a forum or even online groups like someone's Facebook group.
Many times Facebook moderators do it for free, but it is becoming something to get paid for because of all it entails.
Each community is different so you may have tasks such as answering questions, adding people to a group or kicking them out, moderating Facebook share posts, making sure everyone is following the rules, and more.
You can look for these jobs online in places such as Flexjobs or Indeed. Or check out some of the following sites:
Micro-Tasks
There are many ways to make money online, and micro-tasks are some of the first things people find when searching for online work. They are jobs that usually only take a few minutes to complete such as testing websites, watching videos, etc.
The bad news is while they are quick to complete, you certainly can't make a full-time income off of them. But if you want to make a few bucks on some short tasks, here are some places to look for jobs.
Search Engine Evaluator
This was my first work-from-home job, and I can't tell you how much free time I dedicated to learning this job and still didn't cut the mustard. These are those secret jobs you hear about where humans are going behind Google and making sure it's returning relevant and accurate results for queries.
I think I read too much into it but to even get the job you have to take a crazy test where you have to learn their LONG guidelines. They have these awesome chat groups where people don't even really take the time to get to know you until you've been there a while, and I see why. They probably go through a lot of people.
But you get paid well for the job so I would definitely check it out. Here are the companies that hire for this job and similar ones. ( I worked for Leapforce, and you can learn more about my story in this article about how to deal with failure.)
I learned many lessons throughout my work from home journey. It was a full year before I had enough income coming in so I could leave my day job. I have some tips to help you along the way.
Tips for Finding Work from Home Jobs
1. Don't Try to Make Yourself Fit a Job that Doesn't Work for You
I was desperate and tried to shoehorn my way into a job that didn't fit – hence the Search Engine Evaluator failure…errrrr I mean 'learning experience." I was so desperate to work from home that I took any job I could, even if it wasn't right.
Forcing yourself to fit into a job that doesn't match your skills makes it hard to learn, and you may start to resent it and dread getting up for work every day. We all have talents that translate into work-from-home jobs. I was a police officer, and I found a work-from-home job I love.
2. Use Search Terms Like "Virtual," "Remote," or "Completely Distributed."
Completely distributed companies have employees that work all around the work and no main office since everyone is virtual. I used virtual and remote the most. With sites like Indeed you can save searches and get daily updates in your inbox.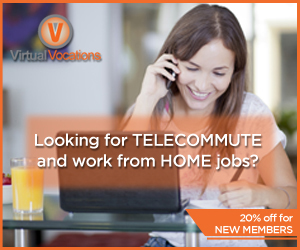 3. Devote Your Time Searching for Jobs to Job Boards Dedicated to Remote Jobs
To save time, look for online jobs on the job boards devoted to remote jobs. Virtual Vocations and FlexJobs are great places, but note, you have to pay a little bit to join them. But it's totally worth it to be able to search for jobs easily. And if you set up the alerts in Indeed and spend your other time on places with remote jobs, you're working smarter, not harder.
4. Customize Your Cover Letter for Each Position You Apply For
This is key! Creating a unique cover letter lets the employer know that you took the time to learn more about them and the position. Plus, they don't get those random warm or cold pitches that don't match the job description.
To make things easier, I had one cover letter template that I customized for each job position. Having a template cuts down on time because you don't have to recreate the wheel. And you'll likely apply for a lot of jobs, so you want the process to be streamlined and efficient.
FAQs
What jobs require no talking?
There really aren't any jobs where you don't speak at all to anyone, but data entry, test scoring, freelance writing, and some freelancing jobs don't require much talking.
But you will have to interact with clients, and the more you're willing to put yourself out there, the more clients and success you'll have. Engaging with clients and prospecting is completely different than a customer service job where you deal with complaints all day.
What jobs don't require human interaction?
Other than talking with clients or employers, the jobs with the least human interaction are things like data entry, transcription, ghostwriting, test scoring, certain virtual assistant, jobs, and some freelancing jobs. Micro tasks, researching, and search engine evaluator jobs also require little human interaction.
I know social anxiety can be crippling, that's why it's so nice that more people can work from home. Most of these non-phone virtual jobs are great for people with social anxiety. Data entry, research jobs, and micro-tasks require little supervision and less interaction with people.
What's the least stressful job?
I think the least stressful job is the one you actually enjoy doing. As a freelance writer and blogger with three websites I am busy as can be, but I love my job, so it's less stressful than the one I hated to go to everyday.
But if you're looking for specific jobs, the data entry, test scoring, research, and micro-tasks are probably the least stressful.
Final Thoughts on Non-Phone Virtual Jobs
Most freelancers dream of finding non-phone work-from-home jobs because, let's face it, dealing with grumpy-ass people or, even worse, someone screaming at you on the phone.
Thankfully, there are plenty of types of jobs you can do from home out there in a variety of industries. Or you can try freelancing from home and start your own freelance business.
Whatever happens, don't give up on your dream to work from home for a better work-life balance. It's the most amazing feeling to fit work around your schedule and not the other way around.
There will be struggles and the whole process can be daunting, but if you're tenacious and driven, you can find the freelancing job of your dreams.
Related Posts to Non-Phone Work from Home Jobs
17 Useful and Fun Gifts for Freelancers that Will Blow Your Mind
The Best Inexpensive Accounting Software for Freelancers
22 Amazing Books on Freelancers You Need to Read
Mastering Your Mindset: 9 Effective Ways to Master Your Mindset as a Freelance Writer
13 Amazing Productivity Hacks for Writers and Freelancers to Incorporate Into Your Daily Life
19 of the Best Digital Nomad Podcasts You Need to Listen to in 2021
Which one of these jobs are you interested in?
The best non-phone work from home jobs.