This post may contain affiliate links. If you use my links to buy, I may receive a small commission (at no extra cost to you). For more information please see our
privacy policy
and
disclaimer
.
Learn how to be a ghostwriter so you can ditch your 9-5 and work from home.
You've seen that many people make good money writing online, and it seems easy enough to do, right? You set up your own writing website and created a Facebook page as well as set up a LinkedIn profile, but all you hear is crickets.
Then someone mentions ghostwriting. But, you're not exactly sure what a ghostwriter is, how to get started ghostwriting, how much money you can make as a ghostwriter, or if it's even a real way to make money working from home.
I'm here to tell you it is a fantastic way to earn good money as a freelance writer, and it's one of the easiest writing businesses to set up. You can start a ghostwriting business quickly and start finding clients your first day if you're motivated.
So, let's dive into how to be a ghostwriter, what a ghostwriter is, and the other essential aspects of starting this type of online business.
Want to start a freelance ghostwriting business? Check out my eBook that tells you everything you need to know about becoming a successful high-paid ghostwriter.
Related: 25 of the Best Gifts for Writers That Make Shopping Easy
What is a Ghostwriter?
You may hear stories about how you can't charge premium prices for ghostwriting, but that's simply not true. You may not get credit for your work, but I've made more money ghostwriting than I ever did as a police officer (it's sad but true).
Many writers are earning five figures, and more per month ghostwriting.
Ghostwriters write everything from articles, speeches, books, emails, sales pages, website copy, blog posts, and much more. The most significant difference with these projects is you're not credited with the work.
Ghostwriters essentially write in the voice of their clients.
Now, why would anyone want to write without getting any credit from it? Because it's a lucrative way to earn money as a writer. And ghostwriting services are in demand.
Many people use ghostwriting services such as teachers, businesses, and bloggers- even authors use ghostwriters.
How can you build a writing business without getting samples for your portfolio? I'll tell you a little more about the pros and cons of ghostwriting in a little bit.
Why Becoming a Ghostwriter is a Smart Move
If you've explored my website or been on my list for any length of time, you'll see I have a lot of information on where to find freelance writing jobs for new writers. But you haven't seen much on ghostwriting, and I've been saving it until I finished this eBook on the topic. But more on that later.
Becoming a ghostwriter is a smart move because you can make big bucks ghostwriting! Another nice thing about ghostwriting is once you finish a project and give it to your client, you're done.
Ghostwriting also helps you become a more efficient writer and improve your skills. You'll also learn more about how to communicate with clients and turn them into your biggest fans.
By learning to write in other peoples' voices, you become a better writer, and this talent is crucial for marketing your ghostwriting services. Writing in other peoples' voices well showcases your flexibility as a writer.
Sometimes there is less research involved because the client often supplies you with the sources you need to write the material requested. But sometimes the client may just provide you with a general topic, and then you need to do research.
Now that you know what a ghostwriter is, learning how to be a ghostwriter is easy so how do you get started?
How to Get Started Ghostwriting
Here's the part where you learn how to be a ghostwriter. First, let's talk about why people hire ghostwriters. Businesses, authors, and entrepreneurs hire ghostwriters for many reasons, but there are two primary ones:
Most clients have the expertise but don't have time to write
Or they have the expertise but aren't good at writing or hate it.
To make the most money as a ghostwriter, becoming a freelance writer is your first step. But here is a secret, my first projects as a freelance writer were actually ghostwriting assignments, and I didn't even know it!
Short story here. I never expected to start a writing business. I just needed to work from home for health reasons and wanted to make enough money as a writer to supplement my disability.
I found Jorden Makelle over at Creative Revolt, and she had an amazing class called Killer Cold Email. What I started to realize as I took her course was that I was essentially starting a business.
So, when I say start as a freelance writer first, being a freelance writer and ghostwriter kind of goes hand in hand. But when you start a freelance writing business, you choose a profitable niche to target and create a freelance writing website. It makes finding your perfect client easier.
If you plan on making money ghostwriting eBooks, you'll want to get used to writing long-form content. While writing long blog posts isn't the same as writing an eBook, it's an excellent way to get your feet wet and start gaining experience writing longer articles and reports.
Case studies and whitepapers are also great writing projects to help you get used to writing a lot as well as researching.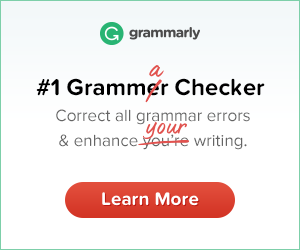 Want a way to improve your writing and become more efficient? Check out Grammarly. There's a free and a paid version. If you want to know more about the difference between the free version and Grammarly Premium, check out my honest review of the best editing tool.
Consider Writing Your Own eBook or Book
Figuring out how to be a ghostwriter is simple if you've already written a book, you're already ahead of the game and would make a great freelance writer or ghostwriter. I'll go into writing books later on.
But don't worry, you don't have to write a book to be a ghostwriter. There are plenty of other projects you can work on as this type of writer.
Ghostwriting has given me the ability to quit my 9-5 and work from home, and that freedom is amazing.
Many writers cringe at the suggestion of starting a ghostwriting business. They like seeing their name on a byline and feel nauseous thinking about doing a lot of work with no credit.
If you love writing, getting paid to do a job you love even if you remain in the background, is fantastic. Many introverts like the idea of starting a freelance writing career as a ghostwriter. But no one says you have to be an introvert to like it.
Extroverts make excellent ghostwriters because they communicate well and love meeting new people. So, it may be easier for them to seek out clients.
However, I'm an extrovert, and I still hate the process of trying to get new clients, but it's an essential part of learning how to be a ghostwriter.
So, here are some pros and cons of being a ghostwriter so that you can decide whether it's the right way to start your freelance writing career.
Cons of Being a Ghostwriter
We'll get the negative aspects of ghostwriting out of the way first.
1. You Can't Take Credit for Your Work Most of the Time
Not getting credit for your writing can be a blessing and a curse at the same time. It can be challenging to work on a writing project and not get a byline. But this scenario is common and not considered theft. It's definitely not wrong. It's a standard business practice for companies that don't have time to create their own content.
Ghostwriters work in every single niche, and it's absolutely acceptable. Hell, there's even such a thing as a ghost designer.
If you are a designer and work for a big fashion company, when you design something, the house gets the credit, not you. If someone writes software for big-name companies such as Apple or Microsoft, guess what, they don't get credit, Apple or Microsoft do.
NASA even has writers who don't get credit for their work other than payment. This arrangement is how the world of ghostwriting works and always has. If you get paid well, is it really that important to get credit?
Want to learn more about how to be a successful freelance writer and make money working from home in your pajamas? Check out my eBook Freelance Writing for Beginners: The Basics.
2. You Don't Necessarily Get to Ghostwrite Books
Sometimes you won't get to write books. Not writing novels may be a con to some people. Sometimes the projects you work on may be boring. They may involve technical writing which is a great niche in itself.
You may have to write blog posts about a topic that puts you to sleep. I assure you that writing about security products isn't always my favorite thing to do.
This statement should probably go in the pro section, but you get to choose what you write! It's one of the great perks of writing in general. However, by learning to write well on many topics, even if you don't enjoy it, you'll vastly improve your writing.
3. It's Challenging to Find Clients
Yeah, this part isn't fun for most writers, but it's crucial to your success. It's tricky to get testimonials when you're a ghostwriter, mostly because some people don't like to admit that they used a ghostwriter, though that is changing over time.
Make it a habit to ask everyone you work with for a testimonial of some kind. Since ghostwriting content such as blogs and case studies is becoming more popular, many of your clients may not mind admitting that you write their content.
Content marketing is a necessity for successful businesses.
4. Deadlines are Critical and Often Strict
As a ghostwriter, you'll have strict deadlines that you can't change. You'll need to be disciplined in your writing timelines and get your work done on time. Adherence to deadlines can make or break your business. You'll lose clients if you can't deliver their writing projects on time.
I treat the businesses I work with as if they are my own, if not better. I'm deadline-driven, and my clients love me because of this. Always treat your clients' business with respect, and you'll be golden.
Deadlines are both a con and a pro. Ghostwriting will train you to write on demand and on deadline. These skills are very valuable.
This type of work definitely pays off because the faster you write, the more clients you can retain. It will also help with your writing, as well.
I've seen an incredible change is how fast I write now. When I break down some projects, I make between $70-$100 an hour and more. Now that's not too shabby. It also allows me to keep raising my prices with each new client I get.
I write EVERY SINGLE DAY. Yep, no breaks. I'm crazy too and essentially run two writing businesses, so that requires A LOT of writing.
5. You'll Kind of Have a Boss
As a ghostwriter, your work for yourself. You own a business, and that's why I always teach on topics of starting a business because when you write for clients, you're running a business.
Think of it as running your own ghostwriting agency. If you get too much work, you can hire other writers to assist.
However, you're writing for pay, so the people who pay for your services are kind of like a boss. Your clients expect you to write a specific way and be efficient with your time and deadlines.
Sometimes you'll have to answer to them, and that can be challenging, but that's the trade for a life of freedom working wherever you want to and when you want to.
6. Researching is also Part of Ghostwriting
I love research, and I'm a lifelong learner. It's why I continued my education for years, literally, but many people like writing and don't enjoy researching. As a ghostwriter creating content around someone else's idea, you're going to have to do research. Sometimes the research takes longer than the writing.
If it's an especially dull topic for you it may be more draining than something you like. But if the topic is something you enjoy, learning about it you may lead you down a rabbit hole and you'll spend too much time researching.
Monitor how much time you spend on both writing and researching. Time management is a critical part of running a writing business.
However, understand that some topics may take longer to research than others. Use a time tracking app like Toggl to document how much time you're spending on each part of the writing process.
7. There's No Room for Ego
Sometimes you'll create something truly incredible for a client, and it may be painful letting it go. However, remember that it's still valuable to other people whether you get the actual credit for writing it or not.
You're getting paid, and essentially that's credit. You also gain invaluable knowledge and experience, which is another critical factor to consider.
I come from the old school way of thinking where, in law enforcement, I worked my way from the bottom up. I gained valuable life experience, although when I was 21 years old, I hated that term. I donated a lot of free time to get that experience and proved my work ethic and reputation.
There's no room for ego here, except of course you can know that you're writing skills are the shit.
How to Be a Ghostwriter- The Pros
Now onto the fun part, the pros of being a ghostwriter.
1. The Majority of Book Authors Won't Get Rich
What? How is that a pro? In reality, most authors who traditionally publish never publish millions of copies of their work. Unfortunately, it's improbable that you'll sell enough books published under your own name to make a comfortable living. It is even less likely that you'll get rich.
That doesn't mean you aren't a good writer, or that it's impossible to write a best-selling novel – not at all. However, if you are not famous already, it's almost as rare as winning the lottery to genuinely make it big in the book market today.
If you want to get started making money quickly in your writing career, then ghostwriting is the path to take to financial freedom. It's also the path that will allow you to work on that novel you've always wanted to write while still raking in the dough as a ghostwriter/freelance writer.
2. You Can Ghostwrite and Write Your Novel
What's incredible is that if your goal is to make a good income writing, ghostwriting may be the perfect career. Plenty of ghostwriters make six figures a year and more doing what they love.
Plus, it doesn't stop you from pursuing your dream of making it big as an author, either. Ghostwriting can free you up to become the famous author you always dreamed of being. Not to mention the fact that your writing will improve while getting paid upfront for it. It's a win-win situation.
3. Ghostwriters Are Multi-talented
If you write well, are good at project management and understand the industry you're in, you'll make excellent money ghostwriting. To start, knowledge in the publishing industry is helpful but not necessary. I only have basic knowledge in this area, and I make an excellent living writing so don't let that scare you.
The longer you write for a living, the more you learn.
You may even be able to get work with a writing agency. However, even without all the knowledge, there are plenty of internet marketers, bloggers, and others who need someone to write their content. You don't have to be Shakespeare to make great money writing if you can write at the 10th-grade level.
Ghostwriting is also a way to make an income while you start and grow a blog. Your personal or business blog is a way to showcase your writing skills. Many business owners look for blog writers so they check out the company's blog first to scope out the writer's skills.
You'll also get experience in marketing, building your first website, design, technology, and other aspects of your business. All of these things are necessary to run a successful writing business. As a ghostwriter, you're kind of a jack of all trades.
4. Make Money While Pursuing Your Dreams
If you like writing and enjoy assisting others as well as helping them make their dreams come true, you'll love ghostwriting.
For introverts who simply like writing but would rather not be the center of attention, it can be a dream job. If you work for an agency, then you don't really have to hassle with finding clients.
However, I would suggest that you get some of your own clients because something could happen to that income if they let you go, and then you're stuck without money to pay your bills.
It's happened to me, and it's not a good feeling. Luckily, I always have backup work in place, and you should too. It could be another agency that you work for infrequently but still keeps you on. It may be that last client that you let go because you got too busy. However, since you didn't burn any bridges, they may have more work for you.
5. Improve Your Skills While Making Money
Writing is a craft. Ghostwriting provides you the freedom to improve your skills and become a better writer. One of the best parts of ghostwriting is you can make money while you learn. It's almost like a well-paid internship.
Every writing job I've ever had has taught me something whether it be formatting articles, upping my actual writing skills, or learning how to be a ghostwriter in general.
6. No Office in a Cubicle Farm
One of the best things about being a writer is you don't have to go to work every day at a cubicle farm listening to your co-worker next to you whine all day.
Ghostwriting is a convenient way to earn money working from home. No more long commute and you don't even need to put clothes on!
Now my commute is from my bed to the coffee pot. All you need is creativity and a desk with a laptop. Heck, become a digital nomad and work wherever you are.
7. Flexibility
Ghostwriting gives you the freedom and flexibility to work while traveling. Imagine sitting out on the beach under an umbrella writing a blog article for a business.
You choose when your workday starts. If you're a night owl like me, don't start work until 10:00 AM. If you're more productive in the morning, write then. You answer to no one but yourself, well, and the businesses you write for but you get the gist.
How to Be a Ghostwriter-Realizing Your Dreams
One thing that often gets in the way of realizing a dream is a job that traps you and makes you work your most productive hours for someone else. Hell, or even shift work that takes you away from your family on weekends and holidays.
I loved being a police officer, but I make better money and have better hours than I ever had in my law enforcement career.
Many people work in a job they hate. If you have a job that has nothing to do with what your life's dreams are you can lose hope.
You may also begin to think that your dreams are out of reach. But, when you have a job doing what you love that allows you to improve every day, you'll be able to make everything you do count.
Final Thoughts on How to Be a Ghostwriter
No matter what your goal is, there really are no downsides to being a ghostwriter despite the cons you read above.
Whether you hope to make a consistent income, become a better writer, or publish your own work someday, all of it's possible with ghostwriting. Ghostwriting is a fantastic way to write your way to the life you love and have always dreamed of.
As you can see, there are quite a few things you need to think about if you dream of being a ghostwriter. You know yourself best, after all. Write the good and bad points of ghostwriting down on paper.
Decide on a profitable niche, and give it a try. You may find that you love it. You may find that it's not for you. What have you got to lose other than your dreams if you DON'T try?
Want to learn more about how to make money as a freelance writer? Check out my guest post for It's All You Boo, How to Make Money as a Freelance Writer, or sign up for my free email course that teaches you how to make money as a freelance writer and the different projects you can do.
For more information on ghostwriting check out my 173 page eBook, The Ultimate Guide to Ghostwriting to learn how to set up your own ghostwriting business.
Related Posts to How to Be a Ghostwriter
Related: Freelance Writing for Beginners
Related: 7 of the Best Ways to Become a Genius in Your Freelance Writing Niche
Related: How to Become a Freelance Writer With No Experience
Related: How to Build Your First Freelance Writing Website in 6 Easy Steps
Related: The Ultimate Guide on How to Start a Freelance Business with No Money
Related: 17 Useful and Fun Gifts for Freelancers that Will Blow Your Mind
How to be a ghostwriter