This post may contain affiliate links. If you use my links to buy, I may receive a small commission (at no extra cost to you). As an Amazon Associate, I earn from qualifying purchases at no extra charge to you. Amazon and the Amazon logo are trademarks of Amazon.com, Inc, or its affiliates. For more information please see our
privacy policy
and
disclaimer
.
Gifts for freelancers that will make you their favorite!
As freelancers, we get to wake up and make a short commute from the bed to the coffee pot, wear pajamas while we work, and play Lara Croft Tomb Raider all day if we want. We do what we want when we want while building our dream businesses.
But while we may think it's easy to buy presents for a freelancer, your family may have no clue. They want to buy you something different than a Starbucks card or coffee mug (because all freelancers love coffee, right?).
That's why I created this fun list of the best gifts for freelancers for Christmas gifts birthdays – no matter what holiday it is. Forward it to anyone struggling to find the perfect gift ideas for you.
And if you're a family member looking for a gift for the freelancer in your life, for God's sake, no more boring coffee cups or gift cards to an office store. Here's what makes a good gift for someone who works from home.
What Makes a Good Gift for a Freelancer?
You probably know that most people working from home are fun but goal-driven if you're married to or friends with one. We want fun presents, something that moves the needle in our online business, or creature comforts that make work and life easier.
Because even though we work in those pajamas at home, running a creative business certainly isn't easy. The best gift ideas for freelancers help us work smarter, not hard, and we also appreciate presents that are fun.
This handy desk organizer allows you to use valuable real estate on your desk in your home office. This stand elevates your monitor so you can store your keyboard and mouse under it. It comes with a Bluetooth speaker and 4 USB slots, which is quite handy considering all of our gadgets use them today.
One of the reasons this monitor stand riser makes the list of the best gifts for freelancers is the handy charging port.
The charging station is on top of the stand. You lay your smartphone on the charging pad, where in seconds, it will start automatically charging your phone with no need for extra accessories or wires.
This function works with all smartphones, including the newest Samsung and iPhone smartphones.
With a 30-day window for refunds, you can send this desk organizer back with no questions asked if it doesn't work.
Books may not seem like fun gifts for freelancers, but this one is a good resource for freelancers of all experience levels. Michelle Goodman wrote My So-Called Freelance Life: How to Survive and Thrive as a Creative Professional for Hire to guide women who want to escape the 9-5 trap to freelance from home.
What's really great about this book is that Michelle adds a dose of humor and short stories from her own experience as a creative worker for hire.
For instance, whether you should tell your freelancing clients that the gurgling noise they hear during a conference call is your infant asleep on your shoulder.
Whether you're new to freelancing or an experienced copywriter or web designer, this book has incredible resources for any freelancer. Michelle shares the best freelancing hacks you need to know, which makes it one of the best gift ideas for people who work from home.
Related: The Best Inexpensive Accounting Software for Freelancers
Looking for a quality laptop that won't break the bank? This HP Chromebook is ultra thin so you can carry it anywhere and comes in a variety of options for RAM – up to 32GB.
This laptop has an ultra long battery life of up to 11 hours and 30 minutes and the Fast Charge technology means it charges from 0 to 50% in about 45 minutes.
Stay connected no matter where you go by connecting with all your Bluetooth accessories and Wi-Fi. With a usual core Intel Celeron N4020 processor, you get smooth streaming 4K content.
The screen is a 14-inch full HD with incredible clarity and color. I like that it comes with a multiple ports and a great HP True Vision webcam.
After I had to borrow my mom's old laptop when I had to send mine off to get fixed, I have a new appreciation for the latest technology. We won't talk about how I dumped a whole glass of Crystal Light on it (it's a touchy subject).
The HP light Chromebook is portable with the ports you need to work as a freelancer. The only thing it doesn't have is a CD/DVD drive. But I've lived without one for a while.
Of course, I had to add my own LinkedIn Content Marketing Course. This course is perfect for any freelancers looking for clients on LinkedIn or who want to learn how to do content marketing on the platform.
LinkedIn is the number one social media platform for professionals but it's not just for the corporate world! If your audience is on that social media channel, you may be missing out on getting in front of new leads and potential clients.
In it, I show you examples of posts that do well, how to optimize your profile, cold pitch to potential clients on the platform and more. There's a right way and a wrong way so I show you exactly how. LinkedIn Content Marketing Magic even comes with pitch templates for connection requests, cold emails, and more.
As someone who always had to eat cold meals as a police officer and dispatcher, I still drink one large mug of coffee all day. So, this nifty cup warmer is an excellent gift for any freelancer friends too busy (or lazy) to get up and warm their coffee when working from home.
This beverage warmer is electric, but there are USB-powered cup warmers too. Either way, if you're looking for gifts for the freelancer in your life or a freelancer looking for great presents to add to her list, this one is the perfect gift idea.
Plus, it will keep your favorite beverage from your favorite coffee shops piping hot, whether that's hot chocolate, coffee, or tea. Keep it on your desk or wherever you work so your cup stays hot, but the best thing is it has an auto-shutoff in case your forget.
Most people don't go into freelancing because they love to sell. It's usually quite the opposite. And while this book looks like a kindergartner drew the picture, the content is good!
But when you're self-employed and working from home, selling is a requirement. The sales process is difficult for many freelancers. Most of us find it intimidating, so Steve Morgan wrote Anti-Sell to help freelancers learn how to sell in a way that's not icky.
That's why this book makes my list of awesome gifts for freelancers. So, add this book to your list if you want to learn how to sell without selling. Say what?
Read the book to find out how to sell in a not so icky way. It's one of the best gifts for people who hate to sell.
Every freelancer can use a Kindle tablet. Whether you want to read Steve Morgan's Anti-Sell, play Lara Croft Tomb Raider, or catch up on the class, you're working on. As someone self-employed I often take my work on the go, so a Kindle is portable and easy to take with me.
This one is 8" and with 32GB of storage. I bought it for my mom, and she loves it. If you want a bigger one, this 10-inch tablet is pretty awesome. If you don't need a tablet and just want something to read on, this Kindle with a built-in front light is perfect for you.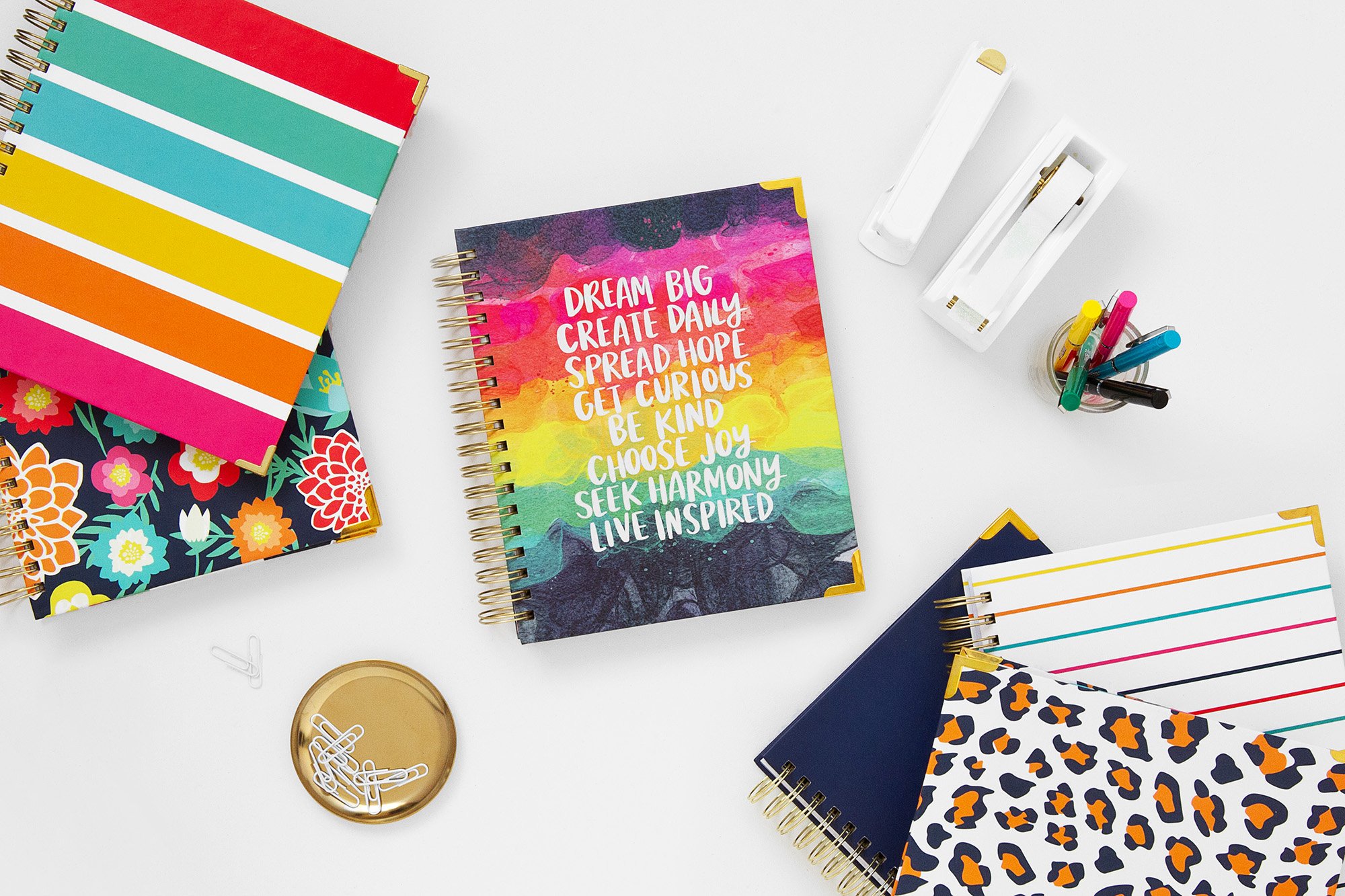 I use a planner every day, and I used to be one of those people that would buy a pretty planner and use about…..four days. But the Living Well Planner is my favorite way to organize my life, and it's an awesome gift for busy freelancers. I leave it on my desk at home and take it with me when I travel.
It has monthly and weekly pages that allow you to record appointments all year in advance. There's even a monthly budget sheet at the end of every month where you can set a budget and record actual spending.
And because Ruth Soukup (the planner's creator) is the queen of goal planning, the first pages of every month are for you to write and plan your goals for the month. This planner helps you set a big goal each month too, and break it down into smaller, manageable steps.
The best part is that it doesn't come dated, so it doesn't matter what time of the year you buy it. It's one of my essentials for working from home.
Remember It! by Nelson Dellis is his fun and easy approach to improving your memory. He found existing solutions dry, dull, and too complicated, so he made his fun and focused on the things people actually need to remember.
He teaches you techniques to make the most out of the memory you have (for some of us, that's not much). The chapters of this memory-boosting book are easy to digest.
They address the things we forget the most such as grocery lists, names, where you put those darn house keys, and more.
This is an affordable gift for your favorite freelancer, and they will thank you when they can find the keys that they put in the refrigerator with the milk.
This color guide is the only one freelance designers will ever need. It makes this gift list because and it will come in handy for any blogger or a business owner trying to create a brand.
When I was trying to create my brand, I had no clue what colors went together, their meanings, or anything. It was overwhelming trying to find the right color combination.
I love The Complete Color Harmony because it has one whole section on the psychology of color. The psychology of color is critical because it affects how people react emotionally to your brand and whether the colors you choose send the right message.
This makes the perfect present for any blogger or freelancer to keep on their home office bookshelf or desk.
I learned most of what I know about design from Kara Fidd. She has an awesome free resource library to help clueless design newbies like me. Check out her resources and pick up this great gift soon.
Most freelancers have websites, and a good, fast website theme is a necessity when working from home. So, help them freshen their website up with a brand new theme. I'm getting ready to change mine to Astra, one of the fastest and best themes to customize easily.
Divi is another great theme and perfect for beginners who don't want to learn how to code (like me). I've used it for a while now, and it has a drag-and-drop builder so you can create beautiful pages. For some, it might be a bit of a learning curve just because it's different.
The only downside is that it's not as fast as themes like Astra or those that run on the Genesis Framework or Astra. My writing business uses the Authority Pro Theme on the Genesis Framework, and it was simple to use.
A good theme could be what your freelancer wants for Christmas or to start the New Year off right.
Print smartphone photos wherever you are with this Kodak Wireless Mini Printer. It's the perfect gift for any freelance photographer or anyone who wants to work from home and take their own pictures for projects.
The best part is you don't need any buttons or cables since it connects by WiFi. This mobile printer launches on an Android phone with one touch and is compatible with iOS via Bluetooth.
It also comes with a free companion app that includes cropping, stickers, filters, cards, templates, photo IDs, and more.
It's a great gift for the freelancer on the go who wants to print photo memories from anywhere as long as they have internet service or creative photographers.
The Travel Anti-Theft Laptop Bag is an excellent gift for travel bloggers or the freelancer on the go. It holds a 15.6-inch laptop and has another compartment for electronics and other accessories.
The front of the backpack has pockets for pens and other items. It even has a hook for keys and is made from durable, quality materials.
My favorite feature is the USB interface the designers built into the backpack. Connect your own power bank and you can charge electronics on the go. There is also a headphone interface too.
The zippers are rugged and durable, and the bag locks with a fixed password lock. It's on sale right now on Amazon.
This natural and primitive-looking diffuser is one of Amazon's Bestsellers. It matches most decor styles and has multiple functions. The diffuser also works as a humidifier and vaporizer, adding moisture to the air.
InnoGear diffusers are BPA-free. This one has two misting modes and four timers. In weak mode, the mist lasts eight to nine hours, and in strong mode, six-seven hours.
It makes a great addition and the perfect gift for any freelancer's work from home office. I sleep with a diffuser on and love it. There are a variety of oils that promote energy, and some relieve stress.
I love Erin Condren's accessories and planners and buy one of these or a Living Well Planner every year. But seriously, these planners are a favorite for many. They can be a little pricey, but any woman freelancing would love this gift. And as it gets closer to Christmas, they often have good holiday sales.
You can find various desk calendars and other office accessories to jazz up your desk area and keep you organized.
As you may know, planning is the key to success and making more money, so this present can help you stay organized and plan ahead. This is one of my favorite freelancing tips.
Most of us freelancers travel at some point, and there are many times I needed to charge my phone or laptop and couldn't. Not to mention a Derecho, we had one year where the power was out in some areas for five days.
This portable charger works with iPhones, Android, tablets, and more.
It has two USB ports and four LED lights that show how much remaining power the charger has. Whether you need to charge electronics at home during a storm or while you travel, this quality battery charger is perfect for freelancers.
Add it to your Christmas list, or if you're someone who needs a gift for your freelancer, this one is quite handy.
I think these fun graphic designer pencils are hilarious. They are a perfect gift for freelance graphic designers, artists, or anyone who is creative. I may even get them just because the puns are hilarious.
These pencils are made from the highest quality wood and hand foiled with a matching eraser, so the creator takes a lot of pride in his work. And they are perfect for Christmas stocking gifts or birthday presents.
They come from Bettie Confetti, a neat shop that sells funny gifts and greeting cards. You can find them on Etsy. I also love the Bettie Confetti Thank You Card that says, "You're Pretty Fucking Awesome Keep That Shit Up."
This book is my newest one and it's all about making a full-time income working part-time hours as a freelance blogger. Learn how to find jobs on job boards, pitch to clients, create a website, and much more.
I didn't hold anything back. It includes everything you need to get started quickly and comes with bonuses! It's only $9.99 and comes with a companion workbook, a financial spreadsheet to track your income and expenses, and a PDF on how to deal with rejection as a writer.
This book can help you finally start your writing business and make more money freelancing.
You'll also get access to a helpful resource page where you can find everything mentioned in the book all in one place. If I had to pick between my books, this one is the one to get. It's also for sale on Amazon but less expensive at the link below.
I don't know about you, but I love anything that has to do with personal development, self-care, helping me run my business better, or making money. That's why I love Cratejoy's personal development subscription boxes.
Subscription boxes are neat presents for freelancers as they are fun and helpful – the perfect combinations. Some of the best subscriptions Cratejoy offers include:
These are the type of presents to help you relax with a hot cup of tea or coffee or maybe a bubble bath.
Final Thoughts on Gifts for Freelancers
Hopefully, you found some ideas for the best freelancer gifts, or if you're a freelancer, you found some fun presents to add to your list for Christmas or any other holiday.
The best gifts for freelancers make life easier or are something they love.
Whether you're kicking back playing Lara Croft Tomb Raider for fun (doesn't everyone?) or working hard, freelancers need the right fun gadgets and helpful tools to work and play efficiently.
This list of gifts for freelancers isn't all-inclusive. Here are some other gift guides you may be interested in:
Gift Ideas for New Business Owner: 11 Amazing Gifts for New Entrepreneurs
12 of the Ultimate Gift Ideas for Aspiring Writers
25 of the Best Gifts for Freelancers that are Totally Unique
17 Best Gadgets for Writers That Make Great Presents
Top 31+ Gifts for Female Entrepreneurs That She'll Actually Use and Want
Related Posts to Gifts for Freelancers
Do you want more information on how to start a freelance business? Check out this article on how to start a freelance business with no money for a better work/life balance.
Want more great present ideas for freelancers and bloggers? Check out these gift guides so you can find the perfect gifts for bloggers and freelance writers.
The Ultimate Guide of the Best Gifts for Bloggers
12 of the Ultimate Gift Ideas for Aspiring Writers That Will Blow Their Mind
22 Amazing Books on Freelancing You Need to Read
19 of the Best Digital Nomad Podcasts You Need to Listen to in 2023
Project Management for Solopreneurs: Top 9 Project Management Tools That Make Life Easier
How to Make Money With WordPress in 48 Hours: 5 Clever Ways
Is Upwork Good for Beginners: The Ultimate Guide for Freelancers + the Secrets No One Tells You
The list of gifts for freelancers that you've been looking for.